Everything you want to know about beeswax wraps
What are beeswax wraps?
Put simply, they're 100% cotton that's been soaked in a mix of beeswax, resin and oil to create an eco-friendly, reusable, pliable cover for food that is biodegradable and compostable. 
What are beeswax wraps used for?
Wax wraps can replace at least year's worth of plastic bags. Use them to wrap leftovers, cover bowls, wrap sandwiches, store half an onion, apple, etc, even keep open bottles of wine fresh and your toothbrush ready for travel! They also work in the freezer.
Are beeswax wraps safe?
We can guarantee that ours are! We're one of the only wraps makers to have had our finished products independently tested and approved for food contact safety. In fact we've got an entire food safety page dedicated to all the ways that we've made sure our wraps are food safe. 
In addition, all of our fabrics are OEKO-TEX 100 Certified free from harmful substances, and all of our ingredients are UK FSA-, EU-EFSA and US FDA-approved.
Are beeswax wraps good for the environment?
Yes, and in many ways. They're plastic-free and BPA-free, made from just 4 materials: beeswax, sustainably tapped damar resin, extra virgin olive oil and OEKO-TEX Certified 100% cotton. We chose damar resin instead of pine resin because some people are allergic to pine.
They're reusable for a year or more and easily washable.
Beeswax wraps are also completely biodegradable and compostable, so they don't go into landfill or end up in our oceans. 
How do beeswax wraps work?
Just like cling film, the wrap moulds around and adheres to surfaces or itself. The warmth of your hands makes the wrap pliable and adhesive. Don't be afraid to pinch the ends together – that's when it really does its job!
Do they transfer any odour or taste to food?
Nope. In fact, we've had this independently tested and our wraps transfer no discernible odour or taste to food. Please see our Certified Food Safe page for all the details.
How do I clean beeswax wraps?
With cold/cool water, a sponge and a little washing up liquid. Hang over your dish drying rack to air-dry. Don't put it on any radiators or other heat sources or the wax will melt.
How should beeswax wraps be stored?
Wax wraps do not like the heat, so keep them somewhere cool, like a drawer or a cabinet.
Are beeswax wraps microwavable?
Beeswax does not like heat, so they shouldn't be put into the microwave, dishwasher or oven. Don't wrap hot food or bowls, either, or the wax will melt.
What if I accidentally melt the wax?
It does happen - we've done it, too! If you do accidentally melt the wax, drop us a note and we'll be happy to tell you how to fix.
How long do beeswax wraps last?
With regular use and proper care, they will last for up to a year or more.
What about when they're knackered?
You've got two choices: refresh them or compost them. The wraps are 100% compostable and/or upcycleable. They make great firelighters!
Can I use them on raw meat or fish?
Please don't, because they shouldn't be cleaned with hot water.
What about allergies?
We advise against using any beeswax wraps if you have any nut allergies. There are no nuts in them, but there is tree resin. Best to be extra-cautious.
We're authorised to use the official 'glass and fork' symbol.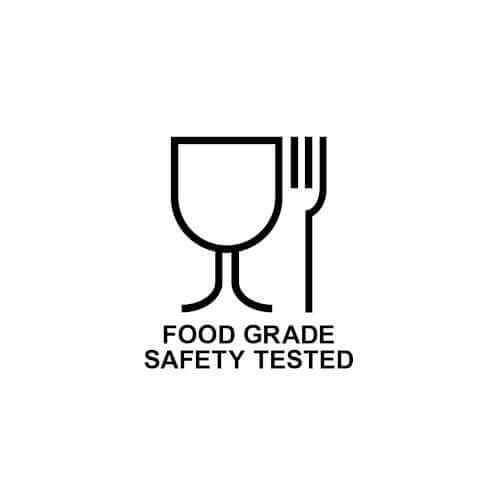 Buy with confidence
In addition to certification testing, the all-natural raw materials that go into our wraps are approved as safe in food by the US Food and Drug Administration, the UK's Food Standards Agency and the European Food Safety Authority.
The OEKO-TEX Certificates for our fabric mean they have passed stringent tests for dozens of harmful substances (like formaldehyde, lead, arsenic, pesticides, carcinogens, etc.) to ensure that the fabrics are in no way harmful to health.
Some of our fabrics are additionally REACH Certified (EU REACH regulation (EC) No 1907/2006).
It's taking the world's regulators a little time to catch up with our move towards sustainable, reusable alternatives to plastic, and we're not waiting until they do…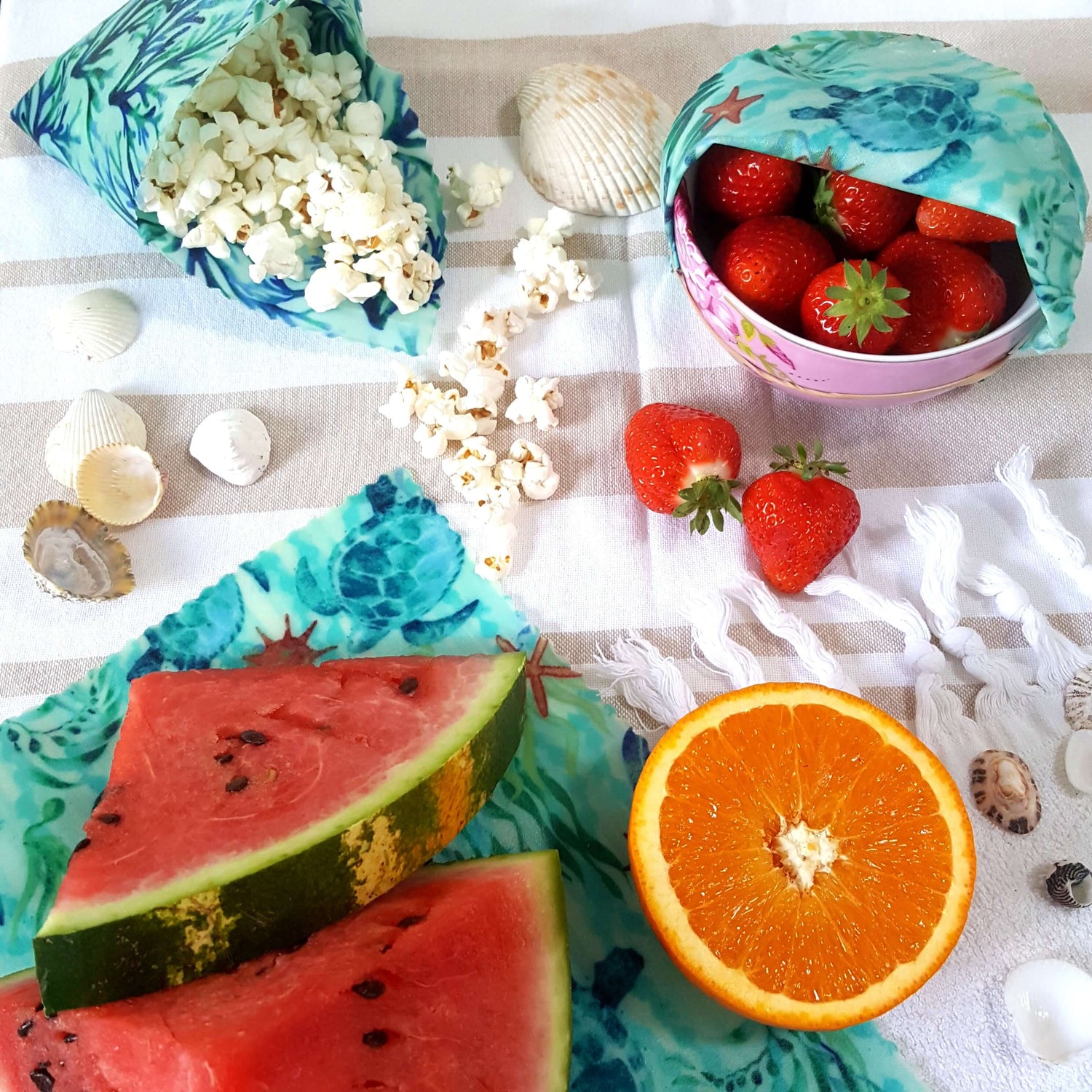 We've made sure that we know (and you know!) that our food wraps are completely safe to use on food

In addition to only using raw ingredients that the US, UK and European food safety agencies have approved as safe in food, AND using fabrics that are OEKO-TEX Certified as having been extensively tested for any harmful substances, we have had our finished products rigorously tested by an independent product testing facility in the UK.
We have passed both the migration and metal/element release tests

This means that the ingredients that make up our wraps (which are: all-natural beeswax, damar resin, extra-virgin olive oil and 100% cotton fabric) will not be passed on to your food, as per Standard EN1186. The scientists call this "migration" and our wraps scored very well on this: less than 3.5mg/dm². To put that into context, plastic food packaging is allowed to migrate up to 10mg/dm² of whatever it's made from to your food.
Our wraps passed the tests for 23 metals and other elements like arsenic, lead and mercury (yuck!)

Our wraps fully comply with EU Regulations 10/2011EU as amended by (EU) 2020/1245. That's the regulation on plastic materials and articles intended to come into contact with food.

In fact, there is absolutely no trace of arsenic, lead or mercury in our wraps (the regulation allows for tiny amounts in plastic food packaging!)
Our wraps have passed an official sensory evaluation for smell and taste with flying colours!

They transfer no perceptible smell or taste to your food according to the official sniffers and tasters at the independent testing facility.
Feel free to contact us if you'd like us to provide more details about our test results and certification.
Our fabric: OEKO-TEX 100 Certified

OEKO-TEX is the highest textile certification for safety, and all of our fabrics are certified.

Please contact us if you would like to see our certificates.

Additional fabric contact safety testing

Our fabric supplier for Classic patterns has also had its fabrics safety and migration tested.

Please contact us for their results.