Family-Run, Handmade & Eco-Friendly
We are Michele and Andrew, the husband-and-wife team who started our handmade beeswax wraps business in 2020 in the midst of lockdown, and we've been happily covered in wax ever since.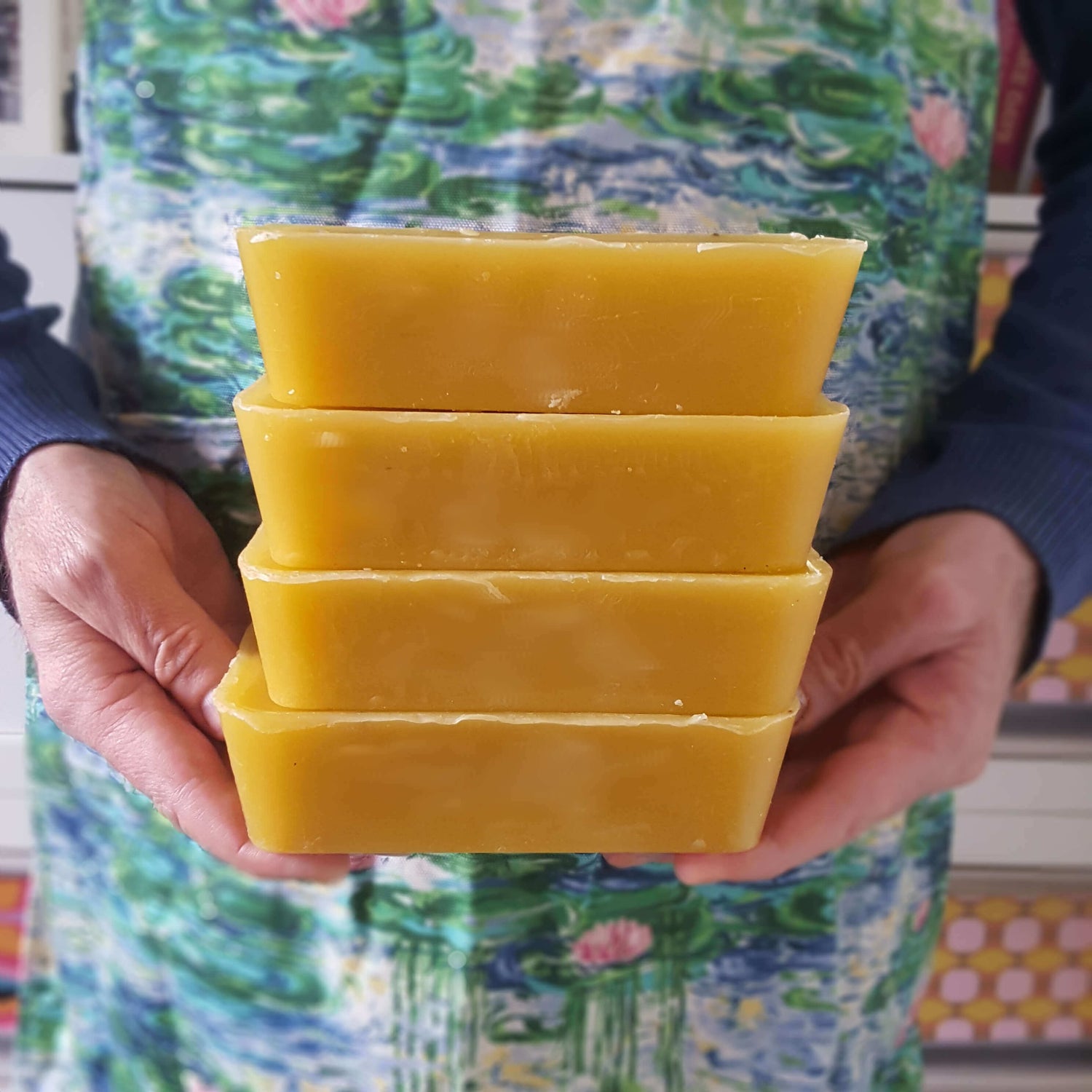 Our food wraps are truly hand made from start to finish in our little studio
No cutting presses, commercial wax cookers or waxing conveyer belts for us! Andrew is a whizz with the tape measure, rulers and cutting wheel (it looks like a tiny pizza cutter), and Michele mixes, cooks & hand-paints the wax on to the fabric. Once they've been hung up and line-dried, we inspect, fold and label them.

We use 100% green electricity, completely biodegradable/compostable packaging, and local materials wherever we can.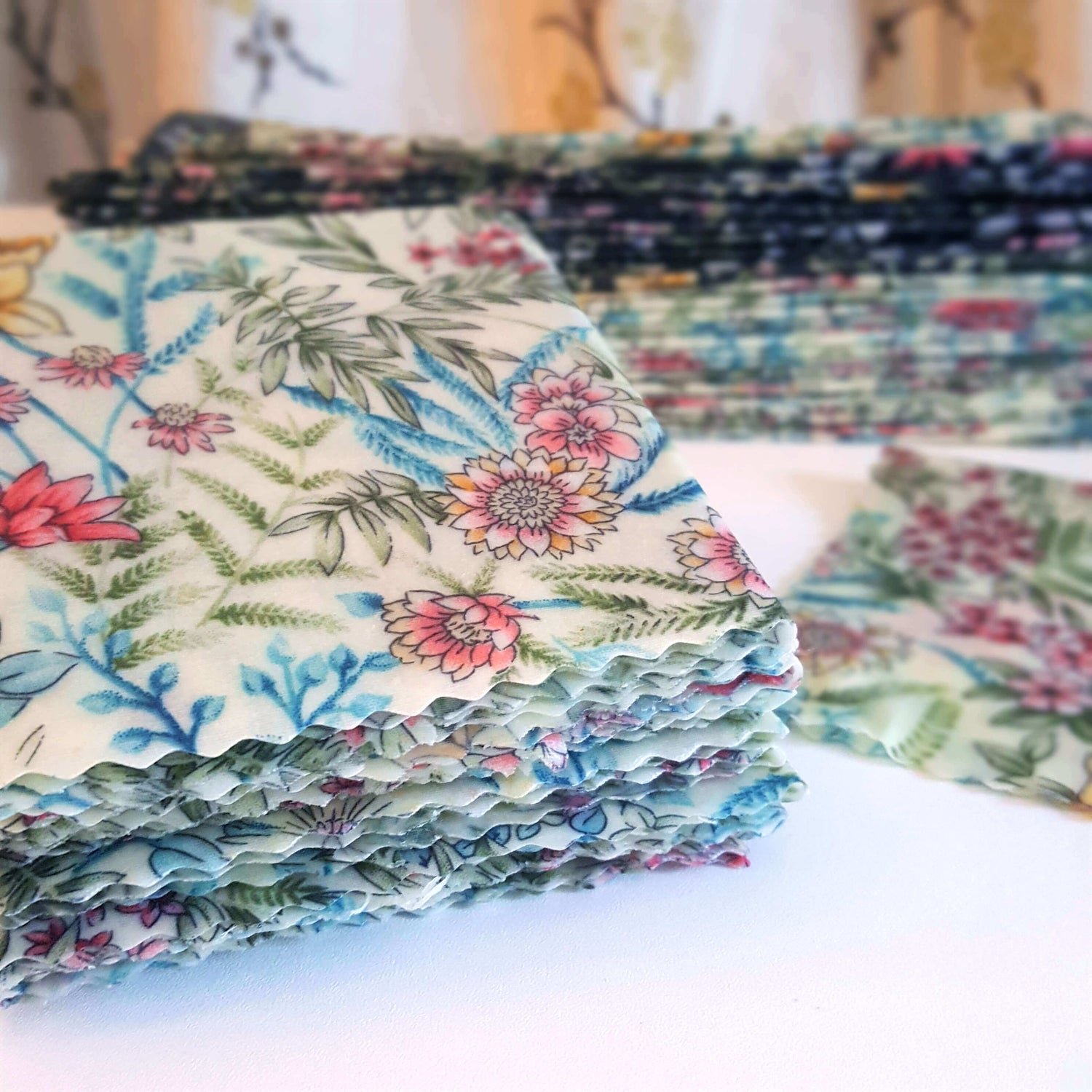 "We choose only the patterns that we love and the focus is always on making very useful, beautifully designed products that make people smile"
It all started with a teal sewing machine during the lockdown in 2020...
Having a lot of time on our hands, I turned my mind to the thing that's always made me happy: crafts. After visibly mending everything in the house (even things with no holes in them) and knitting enough mittens to keep our fingers warm into the next century, I was stuck for another project.
Meanwhile, the disposable face masks were piling up across the country. We hated the idea of all that waste going into landfill, so we decided to do something about it.
Andrew gave me a sewing machine for my birthday (at my request!), we sourced some gorgeous 100% cotton poplin, reminded ourselves that we'd both learned to stitch in school, and designed our reusable fabric face masks.
 Making eco-friendly products is a natural extension of how we live: recycling and reusing, reducing plastic, cycling instead of driving and shopping locally. We work together in our studio using 100% green electricity.
We loved the process of working with such gorgeous materials so much that we decided to expand into making beeswax food wraps. They're a product that we've used ourselves for many years, and we're excited to introduce others to them.
We choose only the patterns that we love and the focus is always on making very useful, beautifully designed products that make people smile.
We're accredited by the Good Business Charter and Good Market
We are delighted to have a number of accreditations for our business, including the Good Business Charter and Good Market.
The Good Business Charter's 10 requirements include: Environmental responsibility, Ethical sourcing, Commitment to customers, Pay fair tax, the Real Living Wage, Fairer hours and contracts, Employee well-being, Employee representation, Diversity and inclusion and Prompt payment to suppliers.
Meet the Makers
Michele Gorman

Before launching Honey Bee Good with Andrew, Michele was the Sunday Times and USA Today bestselling author of many romcoms. She liked to make crafty things when she should have been writing.

Generally found coated in wax, Michele likes to ambush Andrew with new ideas before he's had his morning coffee.

Andrew Robertson

Andrew's background is research and investigative journalism. He's a decades' long environmental activist who sees change in positive action. A keen swimmer, Andrew's glass is always three-quarters full.

Andrew handles all the fabric cutting and the customer service, as well as all the packaging of orders. He occasionally pretends not to hear when Michele is talking to him.